Having Tom Katsis dressed up as Abraham Lincoln and show up at our holiday event which was held at the Reagan Library was a delight. His resemblance and stature of President Lincoln was remarkable. He was asked to pose for pictures by many of our employees and several were impressed when speaking with him of his knowledge of Lincoln. He was a great touch to our event.
Thank you, SBB College.
---
Dearest Tom,
It was a delight and pleasure to meet you and additionally to act with you. That was a special treat for me! Your words were very kind and generous. I too got a "kick" out of working with you. Everyone that I spoke with after the tea and on Sunday said they had a thoroughly wonderful time and many specifically mentioned our unique "Mystery Guest" and what a terrific surprise you were. Your portrayal of Lincoln was definitely the highlight of the afternoon, especially for our crowd of mostly Republican women. But, I can say with true confidence that Abraham Lincoln is one of the blessings that tie all Americans together regardless of political affiliation. I still remember the audible gasp from the audience when you mentioned McClellan's proposal to keep slavery as an American institution. How far we have come since Lincoln's Emancipation Proclamation.
How completely content you must be to have found such a perfect role for yourself. After reading Team of Rivals and then meeting you, I feel that you personally embody many of Lincoln's very own character traits and your natural inclinations shine through so clearly in your portrayal of him. Your knowledge and apparent love of him and his history make your work very authentic. And how delightful that you so ably tied Lincoln's love of Shakespeare into the Elizabethan theme of our event. You tailored your performance perfectly. Also, your patience and courtesy while waiting for your turn on the program under less than ideal conditions were highly noticed and greatly appreciated by me.
I certainly will take every opportunity to confidently recommend you to any and all groups that I can and I look forward to the day when our paths may cross again.
Thank you again for gracing our tea with Mr. Lincoln!
Best regards,
Barbara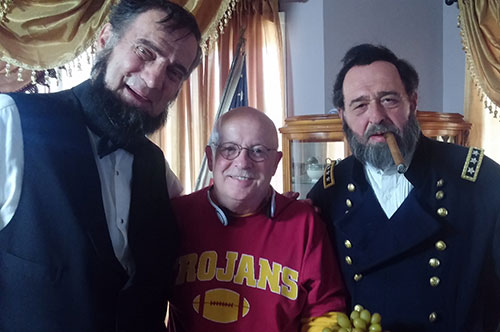 ---
As Chairman of the Time Travelers program at Robert Louis Stevenson Elementary School in Burbank, California, I knew I wanted to do something very special to celebrate the bicentennial of Abraham Lincoln's birth. Although we had successfully utilized our parent volunteers to portray historical figures over the past two years, the students were always at least partly aware of the true identity of the Time Traveler. It was my sincere wish to suspend the belief of the entire student body by bringing Lincoln to life on our stage in a way that would keep the kids truly wondering.
I met Tom Katsis through a mutual friend many years ago but he made a very memorable impression with his distinctive voice, mild manner and impressive stature. When I later learned that he was a Lincoln impersonator, it all made perfect sense. Even without wardrobe and makeup, Tom shares the commanding presence of our 16th President at the height of 6'3" with the distinguished jaw line and striking eyes of the great man. When I met with Tom to discuss the possibility of appearing at our school, he conveyed both a scholarly knowledge of the President along with many anecdotal stories. I knew he was the man for the job!
When Tom arrived at our school the day of the performance in full costume, the faculty was absolutely blown away by is resemblance to Abraham Lincoln. When he appeared on stage in front of nearly 500 students (kindergarten to fifth grade), the children were mesmerized and listened attentively as he told the story of his life and challenged them to never give up on themselves and learn from his life experience. The assembly concluded with a reading of the Gettysburg address led by Tom and many of the students waited patiently after the show to meet President Lincoln. Tom was kind enough to answer some questions and even posed for photos with a number of students and faculty.
I highly recommend Tom Katsis if you are looking for a truly inspirational encounter with President Abraham Lincoln. I was particularly impressed with Tom's ability to adapt his presentation to a level that was suitable for elementary school children. In fact, during two different assemblies set up for junior and senior students, he adjusted his performance when necessary to become even more engaging for the respective grade level. I suspect that his improvisational skill would allow him to adapt his performance for almost any event or venue. ----Paul Bond, Robert Louis Stevenson Elementary School, Burbank, California. 2009